Chiles en Nogada Cooking Class
September 16, 2019 @ 5:30 pm

-

8:30 pm

$65.00
Celebrate Mexican Independence Day with Chiles en Nogada!
[maxbutton id="1″ ]
Treat yourself and your loved ones with a wonderful cooking experience!
In this class we will make an ambrosial dish, Chiles en Nogada – this is a delectable dish prepared with shiny poblano peppers, stuffed with a mouth-watering picadillo (ground beef and pork), dried fruits (cranberries, raisins, and Mexican citron), pine nuts, toasted almonds, fresh peaches and pears, honey and spices; topped with a velvety walnut creamy sauce, and garnished with pomegranate seeds and parsley. It is served at room temperature.
You will be able to impress your guests with this delightful dish. With Chiles en Nogada you can't go wrong!
Chiles en Nogada ~ represent the colors of the Mexican flag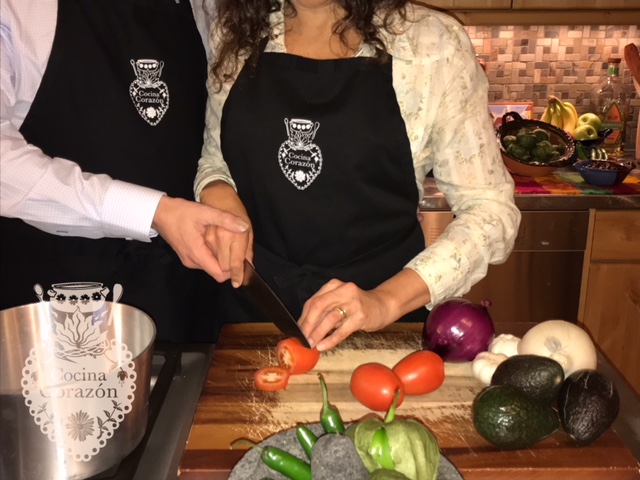 Chiles en Nogada were invented in the region of Puebla back in the 1800's. The nuns of the convent of Santa Monica were commissioned to create an exquisite dish to welcome General Agustín de Iturbide when he marched into Mexico on September of 1821; and he came to the city of Puebla after the signing the Treaty of Córdoba (Mexico's independence).
When he entered the city he was with the Army of the Three Guarantees (represented by the three colors of the Mexican flag) – so Chiles en Nogada have the color green from the chili, white from the walnut sauce and red from the pomegranate. This is why this dish is a source of pride for the inhabitants of the state of Puebla.
Learn one of the signature dishes from Mexico!
Join this three hour class where you will learn the authentic recipe and taste the fruits of your work. Maybe you will take some leftovers.
We will go through the whole process – roasting and cleaning the poblano peppers, cooking the 'picadillo', stuffing the peppers, preparing the walnut sauce and plating the dish.
100% hands-on!